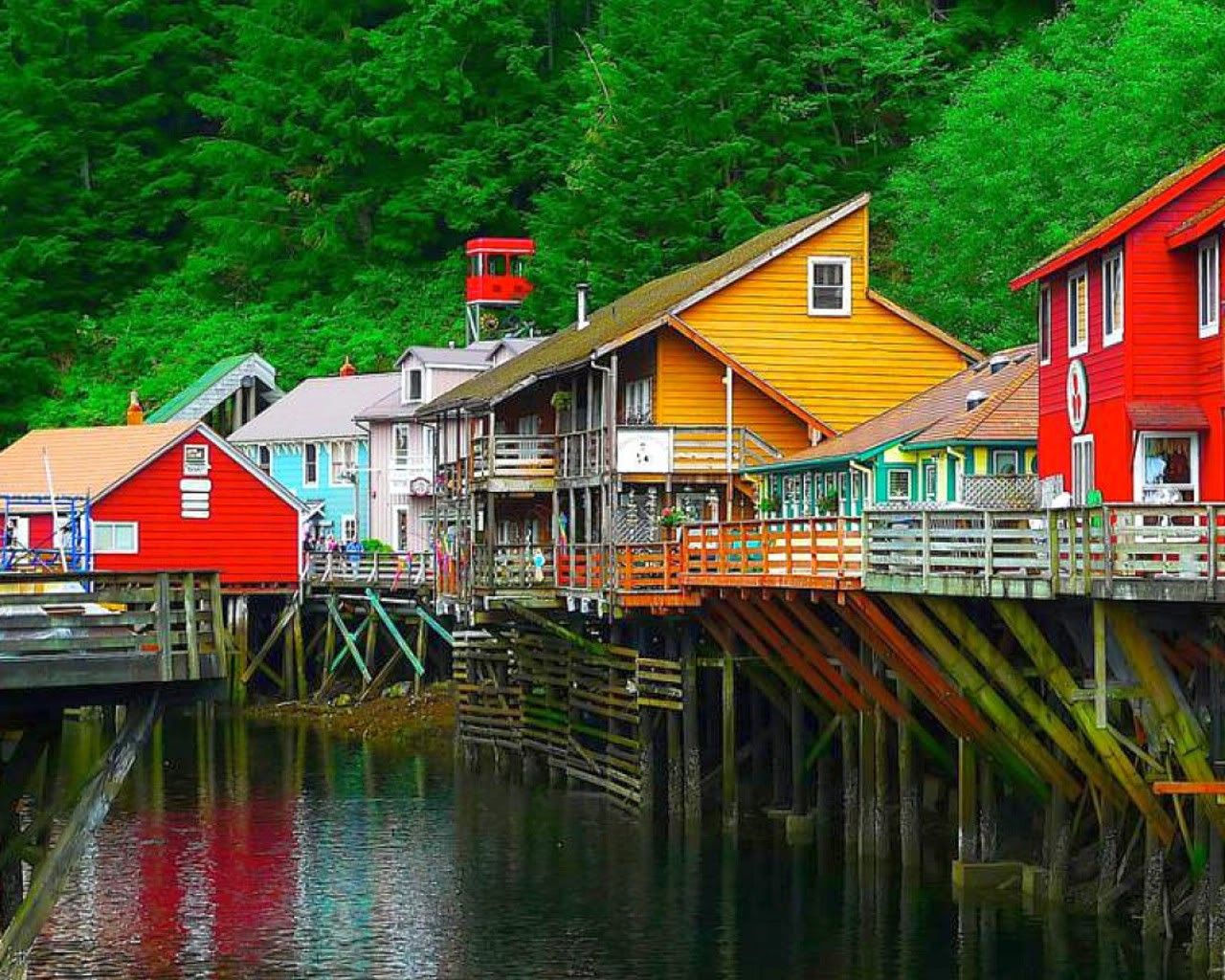 Long story short: We're moving to Ketchikan, Alaska for the summer at the end of April! We'll be living in the RV. We don't know what we'll do after that, but we know we'll be gone for at least a year.
Here's the long story if you're interested.
For a long time, Matt has been in love with fishing. He eats, sleeps, and breathes fishing. For a while we've thrown around the idea of him becoming a fishing guide someday. He even started his own guiding business (fly fishing) here but it just didn't work out with school and his job. So we kept working our office jobs and waiting for the right opportunity.
A few months ago we decided that we needed to have an adventure. We are still pretty young, we're restless, we don't have kids yet, and we're not tied down by school right now. (Matt took a break because he was miserable, but also because he needed to figure out what would really make him happy in life. I support it wholeheartedly.)
We looked into moving to Florida, and even took a trip out there for a job interview! In the long run, the job just didn't feel right. After we got back from Florida I had a little breakdown because I was SO nervous about taking that job. I literally worried daily about getting a phone call saying we got the job. It would have been a great experience, but it really didn't fit with our long-term goals. Looking back, I think we were mostly excited about the time off (and just partially excited about the job). That wouldn't have been fair to the kids involved, or the place we worked for, or us. So we turned it down before they even made a decision.
Because we were so excited about Florida (and the possibility to have 8 days off every 16 days), we bought an RV so we could travel the east coast. Before we knew about the job. I know, I know. You don't have to say anything. It was a little rash. But it may have been a part of God's plan, because a few weeks later Matt started looking for guiding jobs. Read on...
He found a sweet job in Ketchikan, Alaska at a fishing tour company. Ketchikan is a hub for major cruise lines and literally a million tourists come there every summer. The tours in Alaska are mostly in the ocean, so Matt doesn't have the necessary boating licenses to be a guide just yet. But he found a job that will give him free boating experience (and a 6-pack Coast Guard license) which will allow him to be a guide next year. His boss basically guaranteed him a guiding job next year if he completes this season. So there it is...he's working towards his big dream. I'm really excited for him and think this will be a great job to make him happy.
We realized that housing in Alaska is hella expensive. So we'll be living in the RV on the land of someone his boss knows. Why not just rent an apartment? Well, after we're done in Alaska, we want to move somewhere warm for the winter where Matt can guide in warm waters and get more experience. Moving apartments every 5 months doesn't sound fun...so we're just going to stay in the RV for a year. We may take a month to travel around America after Alaska and before we go wherever we go. We're going on a grand adventure and we couldn't be more excited.
While Matt is working at his job, I will be working part-time. I am trying to find a job as we speak, but want to do part-time so I can work on my Etsy shop. But this is also a phenomenal opportunity for me to focus on my health. I just can't go all-in on my journey unless I start working less. I'll be learning how to cook healthy meals and working out 6 days a week. I'm taking these 5 months (or really, the next year) to focus wholeheartedly on losing weight.
My greatest goal in life is to be a mother. Why wouldn't I make achieving that goal a part-time job?
I have extreme faith that if I lose enough weight, I will be able to manage my PCOS symptoms and get pregnant. I really, truly believe that. I've already lost 25, but I've plateau'd. I need to get that last 45 off, and now is the time to do it.
Quitting our jobs and being RV-dwellers for a year really allows both of us to follow our dreams. What we do this year will set the course for the rest of our lives. My motto is, "If not now, then when?" If we don't do this now, when is it going to happen? Why wait? So that's why we're going.
Any naysayers can shut their pie holes, because I guarantee you I've already thought of every bad alternative and I feel at peace. This is a big deal, because I am a huge pessimist and worrier. If I feel at peace about my life decision despite all the possible setbacks, you should, too! It feels very much like we are being divinely guided. It's been a special few weeks and everything is just kind of falling into place.
Looking back at the past few months, things happened and didn't work out because something else was supposed to happen instead. I know that God has a hand in this.
We would love visitors while we are in Alaska!
Come visit us on a cruise, or fly in and stay with us! We would love to see familiar faces, since I know it will be hard to leave friends and family behind. I'm serious about this. Come visit us. We can offer fresh salmon, a beautiful forest with amazing hikes, sweet tourist trips nearby, two fun dogs to play with, and a bed in our RV. Also, totem poles.